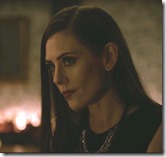 Here's a preview of a new short film with Adrienne! It's called Seedless.
SUMMARY
A story of love in conflict with ambition set in Silicon Valley's world of tech entrepreneurship and sex-trafficking.​
​​LOGLINE
When an ambitious journalist learns that her charming fiancé compromised their relationship to obtain financing for his Silicon Valley tech start-up, she must decide whether she loves him enough to forgive, or she's willing to sacrifice love in a dangerous revenge that benefits her high-profile sex-trafficking investigation.​
​​SYNOPSIS
Nicolette is an ambitious journalist consumed with her investigation of a sex-trafficking ring that she believes has some political underpinnings. Under pressure to back up her incendiary allegations with substantial evidence, she makes effort to connect with Anna, a trafficking survivor who escaped from the ring. Her fiance Eithan, an intelligent and charming entrepreneur, struggles to sustain his tech start-up and is increasingly desperate because he's running short of funds.  One night, Nicolette learns that Eithan had made a bizarre personal commitment to Alexis McKenzie, a powerful tech financier, in order to secure seed funding from her. While Eithan admits his mistake, and explains that his indiscretion was purely for business, Nicolette must make an urgent choice. Does she love him enough to forgive him? Or, is she angry enough to sacrifice love in vengeance, going undercover as Anna, and endangering their lives to promote her ambition?
​
TRT: 100 Minutes
Genre: Suspense/Thriller
Languages: English & French
Seedless Short Film Trailer from Temi Ojo on Vimeo.
Links
Awards
HABITUAL AGGRESSION:
Trailer: http://youtu.be/-dtO5ME2mIE
Nominee – Best Diaspora Short Film – Africa Movie Academy Award 2011
World Premiere – Short Film Corner – Festival de Cannes 2011
Official Selection – Africa International Film Festival 2011
Official Selection – Kansas City Film Festival 2012
Official Selection – Gold Lion Film Festival 2012
RENOUNCING ANGELICA:
Trailer: http://youtu.be/NgIHGkpe0z0
Winner- Special Jury Prize: Artistic Achievement – Silicon Valley Film Festival 2010
Winner – Best Short Film – ION International Film Festival 2009
Winner – Festival Director's Prize – Gold Lion Film Festival 2009
Official Selection – Festival International du Film Pan Africain, Cannes 2011
Official Selection – BET Lens on Talent 2010
Official Selection – California Independent Film Festival 2010
Official Selection – Texas Black Film Festival 2010
Official Selection – San Diego Black Film Festival 2010
Official Selection – San Francisco Black Film Festival 2010
Official Selection – Montreal International Black Film Festival 2010
Official Selection – Kenya International Film Festival 2010
Official Selection – S.E. Manly Short Film Showcase 2010
Directed By
Temi Ojo
Produced By
Temi Ojo & Nicholas Tabbarok. Associate Producer: Vanessa Mariveles
Screenplay By
Temi Ojo, based on an original story by Temi Ojo & Vanessa Mariveles
Written By
Temi Ojo
Genre
Suspense/Thriller
Studio
Topijo Films