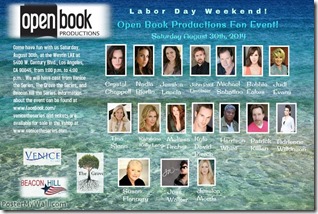 On Saturday, August 30th, at the Westin LAX at 5400 W. Century Blvd., Los Angeles, CA 90045, from 1:00 p.m to 4:00 p.m, Open Book Productions will host its 2014 Fan Event. Including cast from Venice the Series, The Grove the Series, and Beacon Hill the Series. Tickets are available in the Vshop on the Venice The Series website at http://www.venicetheseries.com/vshop-ve … rchandise/ Cost is $175 per person. This includes appetizers, a cash bar, and lots photos, autographs and fun with the cast of these amazing web series! All tickets arenon-refundable and you will need to bring your PayPal receipt to gain access to the event. You may bring things to be autographed and take pictures.
A special room rate of $99.00 has been arranged for anyone who wants to make a weekend of it. This rate will be good for the nights of August 27th – September 2nd and includes complimentary internet. Please book all rooms using the following special site link the Westin has created for the event:
https://www.starwoodmeeting.com/Book/openbookproductions *IMPORTANT* If you have any difficulties booking your room with the hotel, then please email Shavonna Cadle at the Westin LAX with your first and last name, let her know it is for Open Book Productions Event, tell her if you want a King or Double bed, and the dates you want to stay, at Shavonna.Cadle@westin.com .
The hotel offers a complimentary shuttle to and from LAX airport 24 hours a day. There will also be a 60% discount on self and valet parking. Tickets for your parking discount will be handed to you at the door when you arrive to the event.